fautasi

---
The Fautasi longboat is a boat unique to the Islands of  American Samoa, 
Western Samoa and Tonga.  From what I can gather the originals being ships 
longboats joined to give extra length.  The current size range being 90ft to 105ft. 
These are rowed by up to 44 oarsmen and one helmsman.  These boats are funded
and campaigned by individual communities and the competition is quite fierce with crews 
training hard for months before major regattas.

At the most recent regatta during April 2000 in Pago Pago our designed fautasi set the
pace with a convincing win of over 3.5 minutes for the 4.5 mile race.  

These boats are equipped with carbon oars and aluminium riggers whilst the bulk of these 
boats are built from some form of cold moulded construction we opted for a epoxy composite
boat.  Which was basically a variety of E glass  skins on a Corecell foam core.  This boat was 
supplied as a full kitset package including building jig to the village of Fagasa, Pago Pago and 
built by New Zealand boat builder Liam Power on site with the complete job taking 11 weeks.  
The carbon oars supplied from Australia by Croker Oars NSW and riggers by Rig tech Christchurch NZ.

Liam completed this boat to a high quality finish superior to the rest of the fleet and has now 
set the standard and at the same time setting off a mini technology battle.
---
The builder Liam Power (back row 2nd from left) and his crew ............. please scroll down to view the launching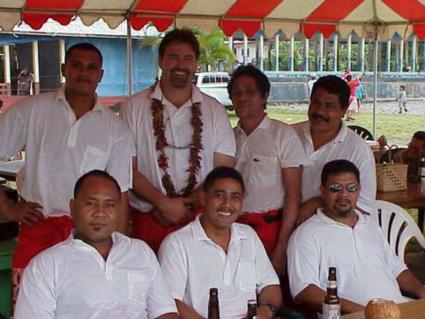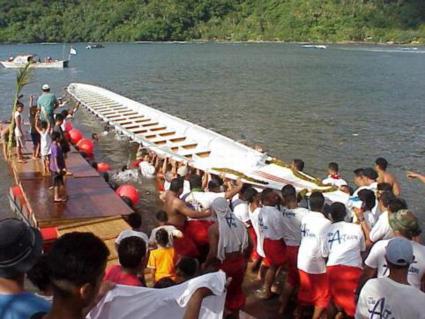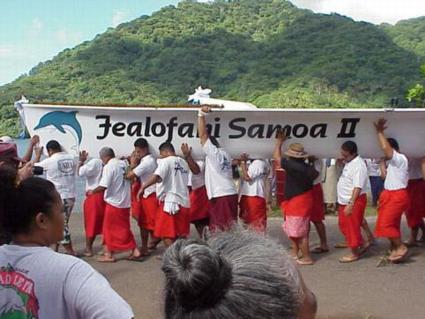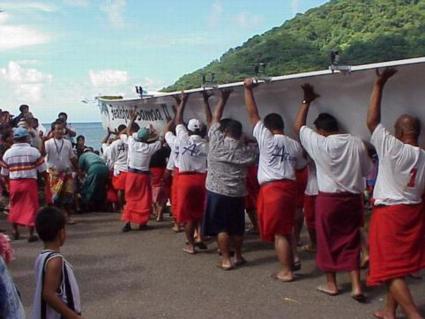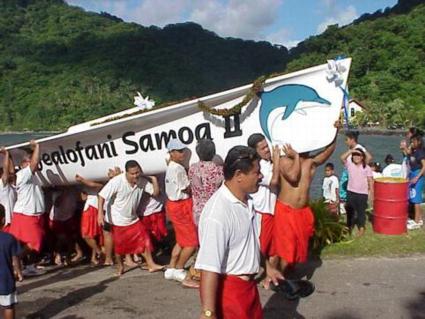 ---
---