Lidgard Yacht Design, Contact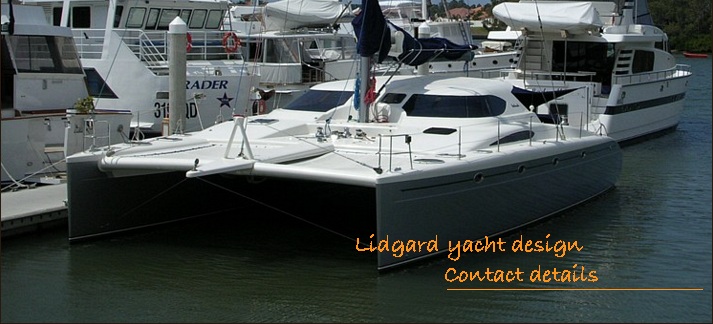 ---
---

For all information regarding  Custom Boat Plans Design Services
Please first e-mail details of your intended vessel  (all e-mail 
will be acknowledged) or to discuss your requirements in detail 
please phone personally. Quotes/estimates for  design 
costs, time frames etc. can be supplied by e-mail or with personal 
phone  contact.


For all information regarding   Stock Designs 
Please contact by way of the following:
Initial enquiries please e-mail details of your interest, please be  
specific in your requirements and we will e-mail forward a study   
plan/pricing details should we have the information/design 
relevant  to your inquiry. Ongoing  contact may be conducted by  
e-mail, phone.


Please note:
 A fee is required for all study prints air mailed/posted out and we 
 will quote this fee dependant on the level of information requested


All inquiries by post/mail please 
direct to the following

Attention:
Garry R Lidgard
71 The Estuary
Coombabah
Gold Coast
Queensland 4216
Australia


---



To visit 

Office address
Unit 15  
239 Brisbane Rd.
Labrador
Queensland
Australia

---



All inquiries by fax or phone to 
the following contact numbers.

Fax ~ Phone 
land    + 61 + 7+55379 135
mobile  + 61 0401 968241
7.30 am to 6.30 pm 
eastern Australian standard time 
Monday to Saturday.

---

Back to Top

© LYD 2005